Fighting Temeraire, Micropointillism 1990 71" X 55" by Stephen Goodfellow
I can understand Turner never wanting to sell his "Fighting Temeraire" painting. Such has been the case with with my own "Fighting Temeraire", the best painting of my "Forgery Suite". Let me tell you a little how this painting came to be. Many years ago, I had an argument with a friend. He insisted that the medium I had created and worked in dictated the style of the work. I disagreed and set out to prove the error of his statement by creating the "Forgery Suite", subjects directly borrowed from famous paintings that I would recreate in the style of the original painters.
There were four of these, and three of them have long left my studio:
http://www.goodfelloweb.com/art/mmona.html
http://www.goodfelloweb.com/art/mbather.html
http://www.goodfelloweb.com/art/msunday.html

I could however, not let go of my "Fighting Temeraire" and it has graced my studio wall for fifteen years.
The fortunes of artists are fickle, and a four year old son combined with a wife with cancer has forced me to take stock of items I had hitherto considered sacred and not for sale.
Then the other day, I was listening to BBC on my internet connection and heard the following story:
Turner wins 'great painting' vote
"...The Fighting Temeraire by Turner has beaten works by Van Gogh, Hogarth and David Hockney to be named the greatest painting in Britain in a public vote. The Fighting Temeraire was one of 10 paintings shortlisted,,,"
Well, thinks I - If I have to take the plunge, no better time than now.

The "Fighing Temeraire" 1990 is a Micropointillist painting, 71" X 55" Acrylic on canvas. Shipping is included in purchase, anywhere in the world, insurance included. 14 day return policy, full cash refund.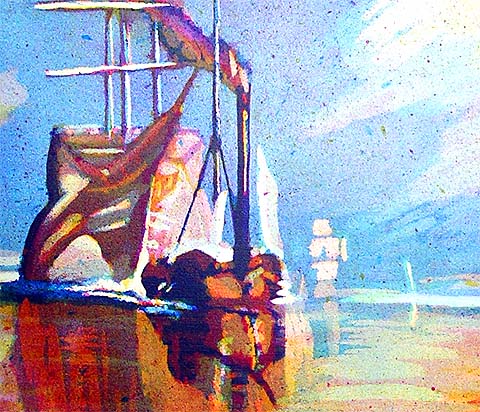 Micropointillism uses only the three primary colors, Yellow, red and Blue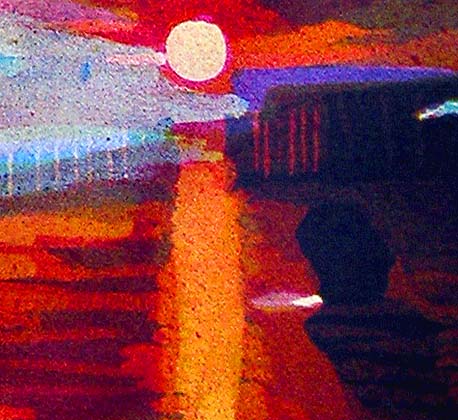 The seemingly random paint spatter gives the illusion of secondary colors