Finca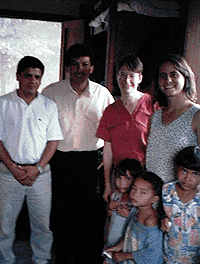 Doctors visit the Finca
The Finca del Nino is an orphanage about 4 or 5 kilometers west of town. The first time we were invited to visit we pictured in our minds a typical orphanage, with bare walls and rows of impersonal beds in big rooms. We were pleasantly surprised to find that we had been mistaken. The philosophy under which the Finca operates is that each child should live with as close to a real family as possible. Therefore, they have constructed several small houses, and in each one lives a married couple who act as parents to about five orphans and up to two children of their own.
The orphans are actually adopted by the Finca itself, and they will remain legal wards and be guaranteed room, board, and education until the age of 18. The Finca's school rooms are located on its property and cover all grades through high school. The need for an accessible school by the children of the surrounding communities became apparent after the school started operations.

Kid on an outing to Trujillo

Children from outside the Finca started attending, and the school currently has a student body made up of about 70 orphans and non-orphans. Besides the "parents", the staff is made up of its director, Zulena Pescatore (who has five of her own children), a nurse midwife, and a small group of North American volunteers. The grounds are quite extensive, with plenty of room for children to run around and entertain themselves, and also boast a small medical clinic and a chapel (in progress). The Finca is funded in part by the Catholic church but is constantly busily in pursuit of supplemental funding.