Restaurant Granada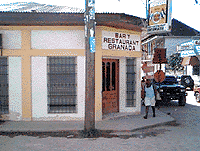 The Granada from across the road.
The Restaurant Granada is a sort of a restaurant version of 'free parking' on the culinary Monopoly board. The place is air-conditioned and the windows are frosted creating a cool and private environment.
The food is decent and reasonable in price. Gringo couch potatoes away from home can fix their eyes on the TV above the door which the staff will switch to a US station while you patronize their establishment. We suspect it switches back to Spanish as soon as you are gone.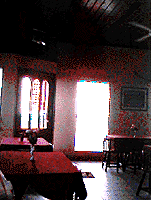 The Granada from across the road.