The Gringo Bar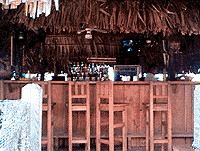 Gringo Bar - before Happy Hour
On the eastern outskirts of coastal Trujillo, past the Hotel Christopher Columbus, just off the runway, next to the Bahia Bar, lies the attractive Gringo Bar. This is the 'Expat' - transplanted and retired gringos - watering hole. At almost any time of the day you can drop by here and pick up some of the most juicy - if not somewhat fanciful - Trujillo gossip that you are liable to come across. Opinions and philosophies are to be had here aplenty. Should this not prove to be enough stimulation for you, there is always the TV behind the bar which offers a continual stream of American programs brought down by satellite.
The beach by the Gringo Bar is well maintained and there is a complimentary shower for bathing patrons. Food here is some of the best in Trujillo and the help is friendly and speaks English. If you are staying in town and you are in your shorts or swimming gear, this is a perfect place to view the spectacular sunsets before making your way to town along the beach.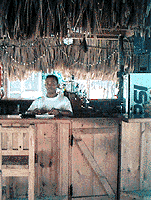 An attractive bar from which you can look over the ocean.
in the cool shade of a palapa on the beach and enjoy the ocean. Beaches on this stretch are daily cleared of litter and the water is fairly clean. The Gringo Bar has a complimentary shower stall for its clients, if you want to wash the salt off after a swim.
For a snack, I recommend the conch soup, which is very good. They have a decent menu, including good old fashioned hamburgers and a small variety of sandwiches. Prices are reasonable.
Taxis come and go all the time from here, so you can usually get a ride back into town. The occasional mobile customer will usually give you a ride into town as well, but if you have to, it's only a fifteen minute walk to the center of Trujillo.
For sheer ambiance (of a sort), the Gringo Bar should definitely be one of your halts if you are only here for a short while.