Don Perignon
View of Don Perignon from outside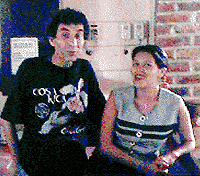 Proprietors Michelle and Maria
You can hit the dance floor and writhe till you drop, but even if you only want to watch, this is a must experience event.
We tried Don Perignon's special lobster in a garlic sauce, which was delicious. At $6.00 a plate this was one of the tastier meals to be had in town. Other dishes, such as the Spaghetti Bolognese is also very good.
If you're only in Trujillo for a few days, then the Don Perignon Restaurant should probably make its way onto your itinerary as a good value for money and a great place to eat.