The Trujillo Mercado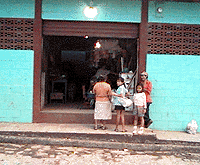 Mercado entrance
If you have seen the astonishing market places in Mexico or Guatemala, you may be in for a bit of a letdown. Trujillo Mercado is very, very small. If I said there were twenty five stalls, I would probably be exaggerating. As with most mercados in Honduras, your purchase will be a no thrills, no frills transaction: The proprietor tells you what the price is, and that is that. Unlike other Latin countries I have been to, the culture of the Honduras market place seems to dictate that prices are fixed, and that is that. In other words, don't bother bargaining - you probably won't get anywhere.
Despite it's small size, the proprietors are for the most part a friendly lot, and it does no harm to snoop around take in some of the mini-ambiance and peruse the vegetables, some of which I had never seen or tasted before.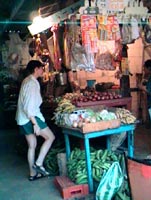 A typical vegetable stall

Aside from vegetable stalls, there is a butcher shop. Eggs are also to be had.