Oasis Restaurant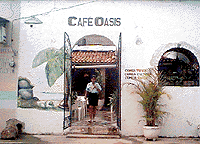 Oasis entrance
This is a delightful restaurant. The food is good, the prices are low. Around the corner from the central plaza, the Oasis Restaurant is a bright, yet shady outdoor establishment and a veritable botanical garden to boot. Aside from the living plants, the owner places fresh flowers on the tables from her garden every day.
Amongst the refreshing variety of dishes on the Oasis menu we ordered "Anafre", a bean dish which arrived at our table with its own brazier of charcoal to keep the food hot.
During our stay in Trujillo, we found ourselves returning to this establishment repeatedly for liquados, good food and ambiance. The restaurant also sports a small exchange library, an informative notice board and a collection of magazines in various languages.


Oasis patio