Trujillo Prison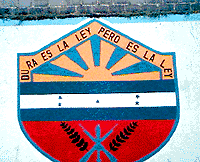 Slogan on side of prison wall, "The Law is Hard, but it's the Law"
Unlucky in a drug transaction? Shot a friend or your wife in a drunken brawl? Had an altercation with the police?
Trujillo Prison could be just the place for you. If you're the kind of incarcerated criminal who is gregarious and likes crowds, you'll find this to your liking; Trujillo Prison is packed to the gills.
A year ago there was an escape attempt and several of the inmates were gunned down in the streets of Trujillo by prison guards. The previous prison administration was corrupt, even by Honduran standards and the warden and many of the guards were replaced. As you walk up or down the hill, you can sometimes hear the inmates just over the other side of the wall.
I am told by several sources that your stay in prison is directly in proportion to your connections and pocketbook, but I don't recommend checking out the accommodations. Even for a day.