Airport Runway, Trujillo, Colon, Honduras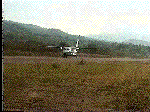 Islenia Airlines plane getting ready to take off.
If you are flying in to Honduras using the San Pedro Sula airport and you want to get to Trujillo by air, grab an Islenia Airlines plane from San Pedro Sula to La Ceiba. From there you switch over to another Islenia plane with will take you to Trujillo. Fares are inexpensive, planes are sound and are flown by experienced pilots.
The airport strip was constructed for "Ollies Boys" during the covert Contra episode of the '80's. Now incoming planes sometimes have to do a once-by over the runway because it is usually filled with passing taxies, pedestrians and mules.