Hull Regional College of Art; 1971-74
Nick Grant
jo.lang@btinternet.com
Notes (August, 2001):
Sleuthing on the web, I came across a defunct web page - a guy named Nick Grant who was running for a council seat. There was an email address so I tried it, not really expecting it'd be the right one.
But it was.
Stan - Nick Grant's son replied, telling me that his dad was actually in New York, visiting. I called him and talked for a few minutes - it was good to see the lad hasn't lost the fire, and believes in working towards a better World.
I suspect Stan got a kick out of seeing pictures of his dad in Art college.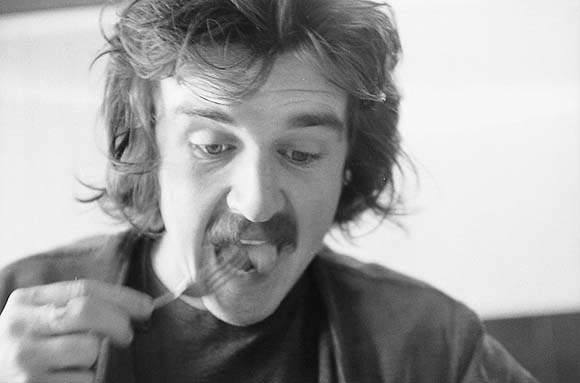 Dot's Caf?

Nick at the house John Weston lived in - What street was that? I remember visiting them frequently. I think it was bought by Tim Marshall, David Tomlinson and John Weston. It was about a two mile ride back to my place on 11 Princes Rd, and many a time I would ride home at night by bike through the silent streets, never seeing a soul. That town sure could sleep at night!
Nick Grant says:
Subject: Re: Hull College of art - old pictures found...  View Full Header 
View Printable Version From:Nick Grant <jo.lang@btinternet.com>  Date: Mon, 
January 24, 2005 4:30 am  To: Stephen Goodfellow <esteban@goodfelloweb.com>  

OK Stevie...just to freak you guys, here's a fairly recent couple of shots
of me! First I'm crouching down left corner at a protest over school
spending cuts last winter - Feb 04. Next I'm posing in front of my union
branch banner. Third is my son Stan 21 with his girlfriend during in Yankees
stadium last September 04.