When the Layabouts play, people dance
By Mike Arbanas
Photos/David Zeiger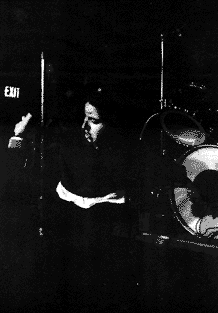 When the Layabouts play, people dance. Lots of people. It doesn't matter that the floor is too crowded; it seems important to be out there.
The Layabouts are a neighborhood band. Most of the members frequent the northern Cass Corridor, and most of their gigs are in the area. Generally, the whole neighborhood turns out. But that doesn't mean that the group has no appeal beyond their home turf.
The band's recently released LP No Masters is one example of their wider appeal. Copies of the album have found their way to ex-Detroiters and other friends from Seattle to Germany. British DJ John Peel played it on BBC-1, and it's been on the airwaves regularly in Toronto.
The record's popularity aside, the Layabouts' forte is live performance. The band's reggae and ska-tinged rock and roll is a natural for audiences that want to dance. Each performance seems like an event, and the intensity that the band puts into their performance is matched by the enthusiasm in the audience response.
According to Ralph Franklin, the group's bass player, one of the reasons that the band is able to perform with such enthusiasm at every show is that they perform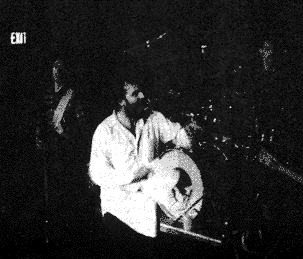 where and when they want to, rather than every weekend, like most working bands.
"We don't look at the band as a job, as most bands do," Franklin said. "That's their bread and butter. We all have other jobs or other things going, so for us, we look at it more as fun."
Fun is an important part of the Layabouts' performances. The band (Ralph Franklin bass, Alan Franklin - guitar, Stephen Goodfellow - vocals, Mel Rosas - drums, Luis G. Encarnacion - congas, Sunni Rashid - timbales, Mary Richards- violin, guitar) treats serious subject matter with a sense of humor and playfulness that has endeared them to local audiences.
"It's a conscious decision in that we feel that an important part of life is playing," Franklin said. "Not playing music, but playing around and having fun. If you can't have fun with what you're doing, then you must be doing the wrong thing."
"You don't have to be serious to get your point across," he added. "Humor and having a good time are really important in getting things across to people, and it doesn't lessen what you're saying at all."
The message of the Layabouts' music is basically a criticism of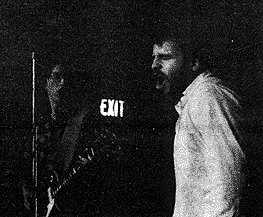 authoritarian society. Franklin said that, while there is a good deal of disagreement within the band on specific issues, the group as a whole agrees on a basic antiauthoritarian standpoint.
Franklin said that, because they present an overt political message, the group runs the risk of being written off as a political band, a category that they feel is limiting and unfair.
"Barry Manilow is a political songwriter," he said.
"He's just the politics of the ruling society and of mediocrity. We decided to have something that confronts the existing society and ruling politics. Others may defend it, but they don't look on it as a political decision."
Since the band was founded in 1980 by the Franklins, Goodfellow and Rosas, the Layabouts have devoted a number of their performances to raising money for causes in the area that they feel are worthy. Franklin said that the sense of community involvement has been another source of energy for the band over the years.
"Some people didn't want to play for money or in bars ever, and some did," he said. "So we made an agreement that we'd play in bars to buy equipment and pay the band's expenses, but we'd also play community things for free."
The Layabouts decide among themselves how the money that they raise at benefit performances will go to the community. Proceeds from the album were administered to the needy of the Cass Corridor and the North Cass Community Union.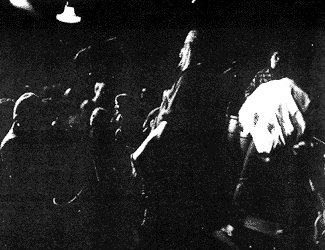 "In that case, we stipulated that the money was to go only for food, clothing and emergency shelter," Franklin said. "They were amenable, and it all worked out well." The band's next performance will be tonight at Alvin's. The show, in which they are sharing the bill with the Blanks, will be a benefit for the Daily Barbarian, an anti-authoritarian newspaper that several of the band members work on, and for the community groups that are fighting against the City of Detroit's planned trash incinerator plant.
"We feel that this is an important issue," Franklin said.
"You see a lot of the environmental groups on TV opposing the plant, but there's also quite a large opposition in the community surrounding it.
As individuals, several of us have gone to demonstrations against the plant and done other things, but, as a band, we can get together and raise money for a worthy cause." Tonight's benefit will probably be the last performance of the band in their present incarnation. Goodfellow, a highly respected painter, is leaving to pursue his artistic career in
New York. Rosas, a drawing instructor at Wayne State, may also be leaving the band soon for career reasons.
According to Franklin, however, the Layabouts will adapt to the personnel changes and carry on.
"Of course, there's always a chance that things will fall apart when these things happen," he said. "But the band, and what's happening with it has always, been kind of based on who's around and what they're up to. The band is more of an idea than a moneymaking project, so we'll just take the changes as they come and make what we can out of them."
"The band is not really an end in itself," Franklin added.
"It's one of a number of projects that we as individuals have to try to make some sort of positive impact on our community, projects that we'd be involved in if we didn't play music at all. That takes a lot of pressure off, but we never get bored with what we're doing.
We're having too much fun."