The "Acoustabouts" 1990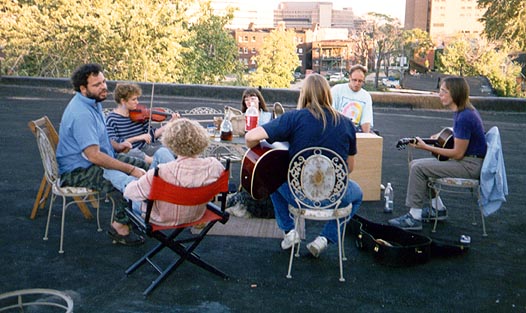 (Left to right on Forest St. warehouse roof), Stephen Goodfellow (Violin), Rebecca Kaplin (Red chair), Susan Sands - not a band member) (Hidden behind bottle - vocalist), Sofia Raptis (Sitting back to picture with guitar), Ralph Franklin (Playing drums on box) Chris Taylor (Guitar), Alan Franklin.
By the early 1990's, we were getting tired of lugging large amounts of equipment around. An acoustic version of the Layabouts evolved, allowing us to play at various intimate performances with little preparation time or logistical nightmares. Musically, we were starting to drift apart, although songs still appeared in profusion.