Alvin's January 30th 1999
Drop us a line!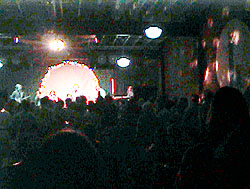 We stepped into the dank musty entertainment space weighed down by an assortment of band equipment.
The place has a musty smell. It's changed since we performed here some seven years ago. Alvin's no longer serves food in the daytime, which went some way to cover up the smell of cigarette smoke and stale beer of the nighttime party crowd. Apart from the smell - and the pictures of old blues singers that used to decorate the walls - the place is pretty much the same. The back room is nicer. It's still covered in graffiti, but there's two comfortable sofas in the room.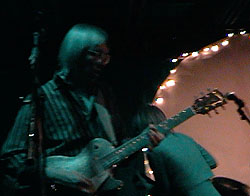 Great! I can relax during the laborious sound check and before we perform.
Dean the soundman arrives and we set up and go through a sound check. We've known Dean for a long time. Apart from being an accomplished musician in his own right, Dean knows the Alvin's sound layout; he's done sound here for ten years. He's really familiar with the Layabout sound from our past existence so there is really good chance the sound quality is going to be fine this night. We finish the sound check.
It's off home, shower, sleep.
I drive to Alvin's in good time, mumbling the lyrics that I'm having trouble with. Sometimes I don't know why I bother. It'd be a miracle if anyone could actually hear anything I sang through this wall of sound. Still...hope springs eternal.
Jeez...the place is packed; just like the ol' days. It makes me a little nervous and my eyes dilate as I make my way down to the stage, greeting and being greeted by friends and acquaintances. Most of the other Layabout members are already here. The Luddites are a-playin'! Damn they're good. How are we going to top that? Look at that singer go. She's like Nina Hagen on speed. Can she sing! Brass section too.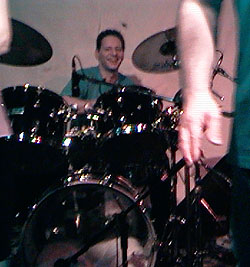 Someone told me they were an acoustic band and indeed they were...but what wall of sound! They were going to be a hard band to follow.
I get to the back of the stage. There is free beer, but I can't have any. It makes my mouth go dry and I can't sing...and it makes me stupid and I forget lyrics. And I thought I was a party animal.
Sylvia looks nice, really well decked up for tonight's performance. later, her blouse will be spattered by beer from a rowdy dancer. Ralph and Alan are out front, working the crowd, chatting with friends. I don't know how they do it; I just don't have the capacity to mix before I go on; I'm too geeked.
The Luddites are cool people. Some of them are hanging out in the back, joking and contributing to the mutual admiration society. We like their sounds, we hope they'll like ours. I buy one of their CD's.
They've played their last song. The canned music goes on and equipment starts flying around; it's time to get ready.
We're on stage. There's the crowd and here we are; a relationship that is about to begin. Will they enjoy us? Will they dance? They wonder the same thing.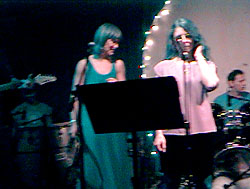 The Layabouts are looking at each other. Are we ready? Has Alan tuned his guitar?
We launch into our first song, "Don't Talk"
As usual, we are a little stiff for the first couple of songs, but we soon loosen up and all of a sudden it seems right. Natural. Sometimes I feel like a two way funnel; the audience elevates me, the band moves me and words burst out of my mouth, a staccato machine gun of syllables and spittle as my body writhes to a rhythm of its own. It amplifies me; I am no longer in control. I am twisting in the coils of the a universal life-urge, momentarily touching what some people call god. It is inexpressible. It is pleasure and agony intertwining, creating something untouchable outside this exalted state.
I'm shocked back into the Now...I can't see, and it takes me a split second to realize that someone has thrown their shirt in my face. It's a friend dancing himself into a frenzy, throwing himself about, climbing out of his clothes.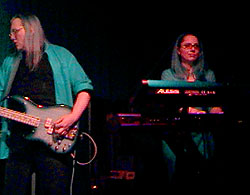 It's happened before. Sometimes it escalates. At the Anarchist Gathering in Toronto, the audience spontaneously stripped naked and danced to our music 'till four in the morning, the floor bathed and slippery with sweat.
The monitors that let me know what I am singing sound much better than they did when the room was empty. I can actually hear myself! Thanks Dean.
We're running late and we decide to skip the break. I'm wired, and it doesn't matter. I look around me. Alan and Ralph are hopped up on the energy; they're not going to flag. Same with Sylvia and Peggy. Jody hasn't even broken a sweat yet. Such a professional. Mel is a little wet from sweat, but his eyes are darting around as he smiles. He's not winded. Roberto isn't phased either and we continue playing.
The audience is wild. They are really dancing like a bunch of banshees; this is great.
The last song. A perfunctory disappearance into the back and the audience claps half heartedly.
"Well you could try to clap a little louder! I don't mind begging - I'm not proud!" Alan tells the crowd. " They laugh and clap louder.
Last song and then one more.
We're done.
Now we have to drag all this damn equipment back to the space.
I'm in bed at 4:30AM.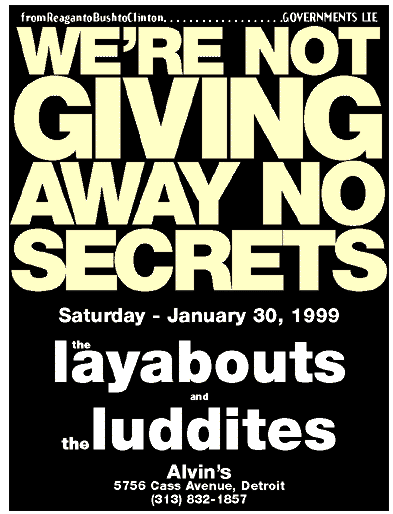 Poster by Urbane Gorilla