Cass Cafe, Nov 13th, 1999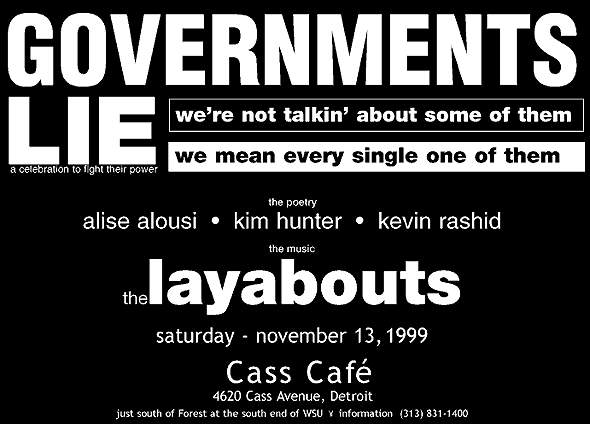 Poster by Ralph Franklin.

The Layabouts performed with three of Detroit's best poets to benefit the Detroit peace group, Metro Detroit Against Sanctions (MDAS). We all helped raise money in support of their project to take humanitarian aid - food and medicine - to the people of Iraq and to fight the powers of both the U.S. and Iraq governments.
Jody warms up...

Chris Taylor fiddles with his buttons...

Ralph demonstrates four entertaining things you can do with a french fry and a glass of beer...

Mel, the new father sleeps...


Peggy enjoying herself while waiting for soundcheck to begin...



Alan in foreground, Roberto to the right.

The crowds, the mayhem...

Worshipful devotees pray to the object of their desire...
Band as seen from balcony...


The animate of the room shift to blur mode...

Songlist
First set
Second set
Don't talk

Mountains of things
Photos by Laurenn Rowland