Layabouts at Alvin's 1984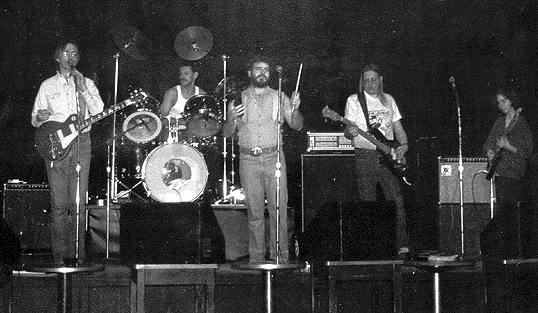 Layabouts on stage at Alvin's doing a sound check.
(Left to right), Alan Franklin, Mel Roses, Stephen Goodfellow, Ralph Franklin, Mary Richards.
By 1984, the Layabouts had become a band in demand. Although remaining local and playing somewhat sporadically, the band was now an item. The Band always played to packed crowds, and you had to get in early is you wanted to get in the door
Alan Franklin's songs had given the band a substantive menu of tunes and Mel tried his hand at songwriting, producing the "B Movie", one of the Layabouts most popular songs.

The bands songwriting had matured, showering the audience with rock, reggie and ska tunes that focused on the ills of the world. Dance 'till you drop...and...oh, yes; don't forget to smash the state!
Ralph Franklin was now writing songs for the band, his style of writing lending itself to the female voice. By 1996 Janice Mae Pope had joined the band to become its lead singer, and remained so until she moved to the North of Michigan in 1998.
Mary Richards had joined the band by this time and new shades of rhythm and vocal excellence issued from the stage. Mary was (and is) a professional violinist, and her contribution made the band rock and dancers jump. When she left the band in the early 1990's, her absence from the band was felt acutely.