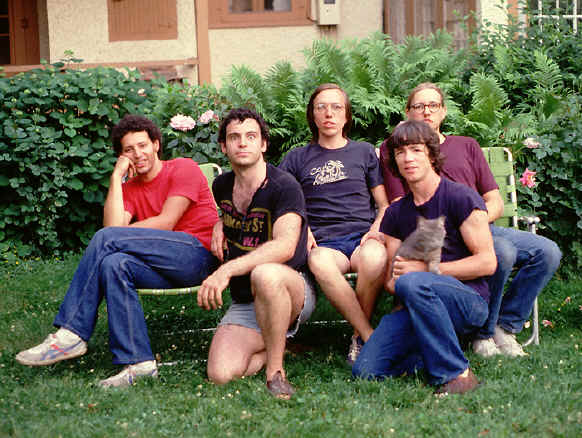 In the garden of 45 Colorado, Highland Park - 1981
Mel Rosas, Stephen Goodfellow, Alan Franklin, Ralph Franklin, Lowell Boileau & Silver
Picture compliments of Lowell Boileau
A short history of the Layabouts
...as seen through the eyes of Stephen Goodfellow
Highland Park, Detroit, Spring, 1981, the Colorado House...
"...You get a shiver in the dark itsa rainin' in the park in the meantime..."
A bleary-eyed Alan Franklin was staggering down the stairs into the kitchen, preparing for another days onslaught of work and wondering if Stephen Goodfellow had left any food in the refrigerator. As he turned the corner to take the last flight of stairs leading to kitchen, he was struck by the clean, beautiful guitar work of Dire Straits "Sultans of Swing" blasting from the radio in the kitchen.
Stephen Goodfellow - having rummaged through Alan's refrigerator food and was in the throes of swallowing the last bite in the vain hope of going undetected - stopped chewing and stared spellbound at the radio.
"...sound of a rhythm you stop and you hold everything..."
"Now that (munch, munch)...is bloody fantastic! Who the hell are they?"
Alan stood riveted at the top of the stairs. "Dunno. Never heard it before!"
"God! It's fuckin' great!"
"When are we goin' to start a band?"
---
A Band Bio of sorts by Alan Franklin
The Layabouts sprang from the heart of Detroit's radical/bohemian community of the early '80's as a more or less direct response to to the musical/political eruption of the British ska-punk scene of the late 70's. Of the four founding members - all whom are in the band today - two were artists and two were veterans of radical political politics like the Fifth Estate Newspaper (the US's longest surviving '60's radical paper) and the Eat the Rich Gang (credo: Workers of the world Relax!); thus the name 'Layabouts' seemed the only appropriate choice.
Since it's inception, when we were inspired by the rage and energy of groups like the Sex Pistols, Clash, English Beat, Tom Robinson Band and Crass, the group has always sought to take inspiration from the best in both radical music and radical politics. Over the course of some sixteen years almost thirty people, from places as far away as England and the Dominican Republic, have passed through the ranks of the band, bringing with them musical influences from reggae to salsa to South African township jive.
In addition, the band has played zillions (perhaps jillions) of benefits and political events, including headline appearances at North American Anarchist Gatherings in Toronto and Minneapolis, and has been an active presence in local struggles like the ill-fated effort to prevent the construction of the world's largest trash incinerator in the heart of our community. In 1985, with the help of community activists and ferocious supporters, we were able to release a ten-song vinyl LP, "No Masters," in the wake of which we were voted Detroit's Best Rock Band by the readers of the Metro Times for the second year in a row.
Though the band succumbed, in the early '90's to the familiar pressures of fatigue and creative burnout, a multi-year hiatus ended recently when we were inspired to reunite by the death of much-loved guitarist and sound engineer, Bill Smitka. With the addition of a new keyboardist, percussionist and vocalists, the band has recently enjoyed a triumphant return to its home base in Detroit's Cass Corridor, and is making plans for a recording project to begin before the end of the year (1999 - 2000).
Though the contemporary music scene seems to be going through a particularly sluggish and uninspired period right now, we continue to be invigorated by struggles like those of the Zappatistas in Mexico, and events like the recent arrest of Augusto Pinochet, the butcher of the Chilean working class, an event which can't help but be cause for celebration for freedom-loving people the world around.
---
---
Not being a historian, nor having any other means of dividing up the various "eras" of the Layabout experience, I've had to fall back on a purely subjective outlook. Simply put, I break down these sequences into the following categories:
Early I : 1981 - 82
Early II: 1983 - 86
Middle I: 1987 - 88
Middle II: 1988 - 92
Discontinuance 1992 - 96
Late I: 1997 -
The categories are based on the following:
Early I is the creation of the band, early songwriting, culminating in our first performances.
Early II heralds the beginning of the maturing band and a higher quality of songwriting, including the recording of "No Masters". Middle I is almost an unknown quantity for me. I was living in New York during this time.
Middle II begins with my return from New York. The band experiences a flurry of new tunes, but runs out of steam by 1992.
Discontinuance is the period during which the band sized to exist.
Late I The present era, brought about initially by the passing of Bill Smitka.
I had met Alan in 1975 at the Circa Bar, having been dragged there by a good looking woman called Cathy Kauflin. Cathy was Alan's girlfriend at the time - a woman whom I had met in my cinematography class at Wayne State University. Alan was drunk at the time and almost immediately laid into me for my sad lack of political correctness. My initial impression of Alan was that of a pompous ass and probably someone to avoid at all costs. Well, almost all costs. I was attracted to Cathy, and if she chose to hang out with this guy, then I had no choice but to bite my tongue and bide my time. Cathy introduced me to the "Fifth Estate", an anarchist newspaper that I ended up doing cartoons and illustrations for. Alan and his brother Ralph were both involved with this publication, so I kept bumping into the two of them. My earliest impressions of Ralph was perhaps not too flattering. He was Alan's brother. Just as argumentative, slightly more annoying and bombastic.

I have known Alan and Ralph for many years. Upon reflection, I have to say that my relationship with the two Franklin brothers is complex and fraught with strong emotions. They are both exceedingly bright and make for stimulating company. They have demonstrated by acts rather than words their friendship and camaraderie towards me. Upon reflection, I realize that I love the two of them very much; they have contributed more to my life than I care to imagine. Each is as different from the other as you can get; apart from a shared English accent and some mannerisms and beliefs, they both have distinctively different personalities, extreme in their complexity. If you told me that they were not brothers, I wouldn't bat an eye.
Both have the gift of the gab, an ability which I envy. Both of them infuriate me in their own distinctive way and being close to them for so long, I've have come to regard them almost as my own siblings.

In my pursuit of downtown lodgings - and Cathy - I moved into the Colorado Co-op that year at Cathy's urging. In so doing I became an outer peripheral member of the Cass Corridor 'in' crowd. This was an exciting time in Detroit. It still had a sizable and recognizable community of poets, painters, revolutionaries and musicians. To be in its midst was a thrilling learning experience. The Colorado Co-op was never dull; it witnessed a continual flow of interesting people, conversations and events.
It was shortly after moving into the Co-op that I remember a particularly lovely outing to the Lapeer countryside as a third wheel with Alan and Cathy. Alan brought a guitar along, and the three of us sang Beatle tunes until sunset and I began to see Alan as more than just a sexual rival. This guy could play and sing!
Anyway, I never did get anywhere with Cathy. Eventually she and Alan broke up; Cathy shacked up with another guy and moved to California.
In 1980, Alan moved into the Colorado Co-op and took up residence. The pieces fell into place with surprising speed. Ralph Franklin wanted in and purchased a base guitar. Because I had been a post graduate art student, I knew of a guy called Mel Rosas, an art professor at Wayne State University who had a set of drums and said he could play them.
Mel is the quiet, reasonable band member. His presence in the band makes the band possible. Without him, we'd probably fall to squabbling within weeks.
And there it was! A band....well, a bunch of guys who were trying to jam. I am told there are still tapes of these early practices; I hope they never fall into the wrong hands!
The basement of the Colorado Street Commune became our first practice space. We practiced here from 1981-82.
During this time, we studied and played a lot of cover tunes: Elvis Costello's "Watching the detectives" and "Radio". The Tom Robinson Band was a strong influence on us as well; especially songs such as "Gotta Survive", "The man you never saw" and "Ain't gonna take it". We were also heavily influenced by "The Clash", the "Sex Pistols" and of course the King of Rock'n Roll - Chuck Berry. I like to think we did a creditable job of playing "Go Johnny be good".
We started writing our own songs right off the bat. "Blue and Green", "You're so neurotic", "Alison", "To tell the Truth"; all songs worthy a "Ruttles" satire.
Pooling our courage, we performed our first gig at Mel's downtown loft, a cool artsy hangout. We were terrible, but fortunately we didn't realize this and no one had the courage to inform us of this fact.
It became rapidly obvious that I was the kind of person who could not walk down the street and chew gum at the same time, to whit - I could not play guitar and sing. I was tactfully informed of this fact by the band when I turned up for practice and there was a new guitarist (Steve Hoerler) in the band. After a few weeks of resentment, which I knew got on everybody's nerves, I discovered to my delight that I actually enjoyed not being encumbered by a musical instrument, allowing me to concentrate on singing and - as it turns out - really allows me to interact with the crowd when we play.
I recall us playing at the Rooster Tail on the Detroit River during this same time period.
It was an exciting time in our music community; new bands were springing up all over the place. The Monster Slayers, Broken Yo-yo's, the Bill Blanks Band and many more - all of them left an impression on us and contributed to our style and compositions.
By 1983 we had moved our practice space to a warehouse on the corner of Antoinette and 2nd, and it was around this time that a young violinist called Mary Richards joined the band. In my opinion, this 1980's configuration of core members contributed to the bands greatest growth and some of it's best performances. Alan wrote a string of first rate songs: "I'm tired", "Donna Lewis", "Fuckalot" and "Governments lie".
Ralph put pen to paper and wrote some really excellent songs: "Police Reaction", "No Heat", "Johannesburg", "I wonder why", "Better Way" and "Thin Ice".
I contributed "Millennia Man", "Too Late", "School Boys" and "Seven Minutes" and "Cadillac".
Mel wrote, "B Movie"
By 1985, people would line up at such places as "Alvins", "The New Miami" and "The Majestic" to see the Layabouts play; we were becoming the darling band of the Cass Corridor, primadonnas, all of us. I am reminded of supposedly disparaging graffiti scrawled on the wall of the Alvin's bathroom:
"The Layabouts - a butcher, a baker, a candlestick maker"
I think it fit us perfectly. We were not professional musicians, nor we did not aspire to this. We wanted to make good dancing music with great lyrics. We wanted to express our anger over a totally fucked-up society - and have fun doing it.
In 1984 we were approached by Marie & Tom Stevens who suggested that we make an album and, to grease the cogs, had seed money contribute.
This culminated in the record, "No Masters" which was released in the winter of 1985. Articles started appearing* about the band and our performances were getting to be quite crowded.
We picked up Metro Times awards in 1995 and 1996 in the "Best Music Awards*" section and began to gain some reputation further afield.
In 1986 we performed for the "Anarchist Gathering" in Minneapolis and again in 1990 in Toronto.
There is much Layabout history of this period that I am unfamiliar with, catching only occasional snatches of it here and there.
Times were changing.

Philosophical differences in the band were beginning to tell. Ralph had a strict anarchist interpretation contrasting with my own outlook which was more conventional. I thought the band had the ability to become world class and would accept the compromises that such a move would entail. Other members saw it otherwise. It seemed to me a great loss of opportunity at the time, but all of us had other careers to pursue.
Alan's home life became more demanding with the birth of his son Emilio. Ralph was now working full time at CCS. The dedication and effort that is demanded for the creation and continuance of a first rate band was coming under strain.
I had left the band in 1986, to pursue my art career in New York and Mel left the band for a period of time.
During this time, Ralph Franklin wrote "I wonder, wonder why" and "Perfect Wonder".
When I returned and joined the band again in 1988 much had changed. Mary Richards left the band to join "Only a Mother" and Rebecca Caplin replaced her as violinist.
In my opinion, many of the things we sang about were becoming outdated; the cynical Regan and Bush years, the troubles in El Salvador and Nicaragua were drawing to a close. The USSR collapsed, and with it the immediate threat of species inhalation.
We played again for the Anarchist Gathering in Toronto in 1990. Now that was a wild show! People were taking their clothes off and dancing into a frenzy; the dance floor was wet with sweat. We played every song we knew - and then started to play them again until we almost dropped from exhaustion. It was something to behold!
Curiously, a spate of songs poured out of the Layabout soundfactory during these last years:
"Walls around the World", "Don't give it up", "Damn this town" and "Johnny take me home",
We threw in the towel in 1992, after a successful performance at the Majestic; we figured it was a good idea to go out in a bang, leaving our audience with fond memories rather than with the impression of a burnt out band on its way down.
Then the Clinton years, during which time the gap between the rich and poor grew to obscene proportions. This difference in wealth has left a profound impression on me and the intervening years have given me time to shape my thoughts. The desire to create music again seemed to be coming to the surface again for all of us.
In 1997 our friend and fellow Layabout, Bill Smitka died. Bill had played lead guitar with us from time to time. He was an accomplished guitarist and a fun guy to be around. His funeral brought the old members together, and it was generally agreed that we ought to get together and see if we could make in work, ostensibly just for one performance.
This has since gotten way out of hand. We've been practicing together now for over a year, learning to get along with each other's new musical sensibilities, incorporating new members into the band, honing our skills and writing new songs: "And so it goes", "Rant", "Alone, but not singin' the Blues", "Monkey Doo". Jody Carlson brought a Tracy Chapman cover, "Mountains of Things".
The band is going through a time of rediscovery; we all seem to me more introspective, more inclined to reach understandings when we have disagreements. There is much good will and camaraderie. There are new faces, new ideas, new songs "...We haven't had that spirit here since 1969..." - I don't know what the future has in store for us, but it's really an exciting time to be a Layabout.
Non Serviam!
Stephen Goodfellow
---
Metro Times, Nov.13-19, 1985 p.17 Return
Metro Times, May 7-13, 1986 p.12 "A bunch of Layabouts"
South End, May, 15, 1986, "When the Layabouts play, people dance", by Mike Arbanas. Return
---