The Layabouts - RealAudio

, MP3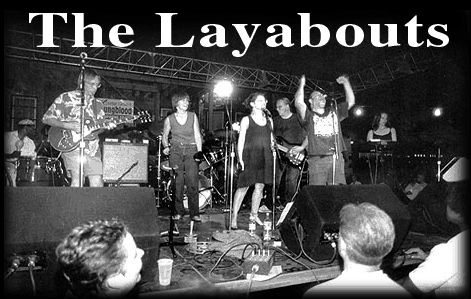 | | |
| --- | --- |
| Present Layabout members: | Alan Franklin, Mel Rosas, Peggy King, Roberto Warren, Sylvia Inwood, Ralph Franklin, Stephen Goodfellow, Jody Carlson. |
| Previous Layabout members: | Mary Richards, Bill Smitka, Janice Mae Pope, Steve Hoerler, Kerry Gluckman, Sofia Raptis, Suni Ali Rashid, Milton Bennett...and many, many more! |
---
Recent past:
Pictures of the WTO Performance, Feb 13, 2000 at St. Andrews Hall
Pictures of our recent gig at the Cass Cafe 11/13/99
"Cadillac" - hot from the studio - now in MP3

Check out the

4th Street performance, July 17th, 1999 and the Dally performance, Sept. 11th, 1999
Other Fronts:
Recording. The tapes produced at one recording studio went through a laborious, involved transfer to another tape medium. We will now be remixing and redubbing various songs.
So far " Thin Ice", "Cadillac", "Donna Lewis" and "Monkey Doo" have been cut. These will eventually be appearing on a compilation CD." Monkey Doo" is now available as an MP3 file, and in RealAudio.
Further sound mixing on the recordings will take place July/August.