The Detroit Institute of Arts Presents:
Interventions/Lowell Boileau
LOWELL BOILEAU, born 1945
MATTHEW BLAKE,
Total Intervention
interactive computer work on World Wide Web (Internet)
This collaborative intervention challenges many notions about art and how it is meant to be experienced.
The installation questions the idea that the uniqueness of a work of art is in its existence as an object. Here the only object created as an artistic component is the cabinet. The other artistic element exists as digitalized images. The computer monitor functions primarily as a conveyor of those images.
While museum exhibits determine the images that visitors may view, this work gives us more choice. By using the computer "mouse" we are able to change the images that appear on the screen.
Boileau periodically alters the images from a computer in his home. These images can also be accessed on computers anywhere in the world through the World Wide Web. As a result the museum's power to interpret art by controlling the context in which it is exhibited is subverted.
The electronic imagery of this piece was created by Lowell Boileau. Matthew Blake made the cabinet.
Courtesy of Arts Foundation of Michigan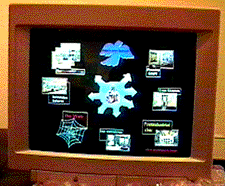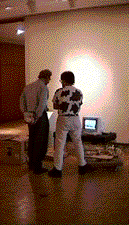 To Lowell Boileau's Web Site...

To the next artist...
Back to the Interventions Page...