1995 - Historical site. This web site is the world's first online documented art exhibit.
The Detroit Institute of Arts Presents: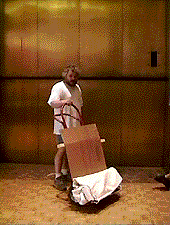 Interventions
Forty-five Michigan artists, working in a vast array of different mediums, will meaningfully incorporate their own works into the museum's permanent collection galleries. The artworks will draw attention to resemblances and parallels of an iconographic, stylistic, or material nature. These 'interventions' will be museum-wide and a 'road map' will locate each 'intervention' for visitors who will see how Michigan artists perceive world art and how they cast their own work within that context.

Back to the Detroit Institute of Arts...
DIA Image Database...
Put together by Stephen Goodfellow©