BRIAN FEKETE, born 1955
Intercondyloid, 1995
oil on canvas
Epithelium, 1995
oil on canvas
These two paintings by Fekete are hung between Bacon's Nude and Schnabel's Cabalistic Painting as a study in comparison and contrast.
Fekete's paintings are from his series. This Mortal Coil. This title refers to Hamlet's soliloquy on the tenuous nature of human existence. His sources are images of the body from Gray's Anatomy, which he explores as interior sites of decline and demise.
In his painting on the left Fekete depicts a knee joint and refers to the fragility and limitations of the body. He sees Bacon's nude as a related expression of human vulnerability-"a lonely figure trapped in a cage of self torment."
Fekete relates to Schnabel's work less favorably. The other painting by Fekete depicts a human tongue as a symbol of the senses. Haloes, based on Buddhist mystical imagery surround the tongue. The artist explains this image as "the marriage of the physical and the spiritual."
Schnabel also refers to a mystical tradition. According to Fekete, however, Schnabel's painting of esoteric Jewish symbols on "low culture" black velvet is a superficial and insincere gesture.
"Intercondyloid; Epithelium"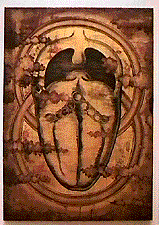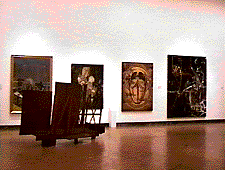 Back to the Interventions Page...