The Detroit Institute of Arts Presents:
Interventions/Robert Schefman
ROBERT SCHEFMAN, born 1952
Song of the Siren, 1993
watercolor on stretched paper
By situating his work here, Schefman offers an alternative to the customary ways collections are categorized and exhibited in museums.
Schefman purposely avoided the 20th-century galleries, where the collection is based on a particular time period and a shared western perspective. He sees more exciting interpretations in the transcultural dialogue that occurs when his work is compared with that of the past.
Schefman's imagery is based on the ancient metaphor of life as a journey of self discovery. The painting's title refers to an episode from Homer's Odyssey, a Greek epic poem that deals with that theme.
The claustrophobic quality of the composition heightens the sense of anxiety evoked by the figures. The scene suggests an imminent psychological peril that must be confronted. Schefman's figures are contemporary portraits, implying that the journey of Homer's hero is one we all face.
"Song of the Siren"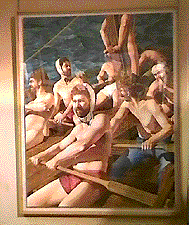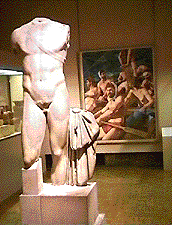 Back to the Interventions Page...