ED FRAGA, born 1956
La Santa E Gloriosa Carne, 1993
oil on wood
This painting, which Fraga describes as "a memorial to past lives," is a contemporary secular evocation of concepts expressed in the Christian works that surround the piece.
The title underscores the shared themes of suffering, death and remembrance. It is taken from The Divine Comedy by Dante and translates as "Holy and Glorious Flesh."
The image of an unmade bed alludes to profound human experiences: conception, birth, sleep, sex, sickness, and death. An altarlike quality is created by the golden hue surrounding the bed and the inclusion of calla-lilies, which suggest lit candles.
The symbol of the bed, which in the 1990s
has become synonymous with the plague of
our times, AIDS, has much in common with
that of the Crucifix. They both speak of
man's inability to avoid suffering and
mortality."
Ed Fraga
"La Santa E. Gloriosa Came"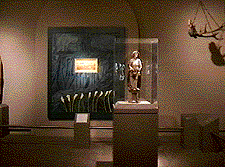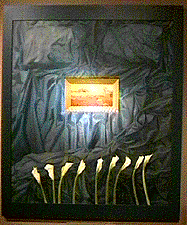 Back to the Interventions Page...