The Detroit Institute of Arts Presents:
Interventions/Jo Powers
JO POWERS, born 1951
Afterlife, 1994
Burdened Figures, 1994
oil on wood
Powers' intervention reveals that exhibiting art is not a neutral process, but one that has an effect on the interpretation of art.
The two works were created independently of each other and are not intentionally related in meaning. Afterlife recalls a dream Powers had in which her mother described a landscape she encountered after death. Burdened Figures, based on a poem, refers to the burden of issues that we all carry through life.
By exhibiting the two pieces back to back Powers invites us to read them as "flip sides" of each other. When read together they suggest a new interpretation connecting how we live with the notion of a life after death.
Powers created her works in a secular spirit. The religious overtones they acquire here result from how the paintings are exhibited in relation to each other and to the surrounding works that express Christian concepts.
"Burdened Figures; Afterlife"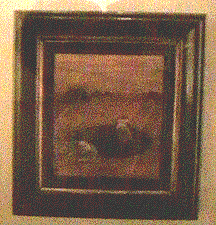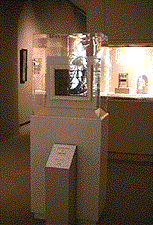 Back to the Interventions Page...