The Detroit Institute of Arts Presents:
Interventions/Gilda Snowden
GILDA SNOWDEN,
Tornado: Red Wind, 1990
pastel on Arches paper
Snowden's drawing is hung where Whistler's Nocturne in Black and Gold (The Falling Rocket) is usually exhibited to acknowledge Whistler's influence on the artist.
According to Snowden this placement also reveals that "influence does not often travel in a straight or 'logical' line" and that it sometimes is not readily apparent.
Whistler's Falling Rocket captures the effects of fireworks in a night sky. Similarly, Snowden's aim is to document the intangible. Her tornado is a personal symbol, more abstract than the natural phenomenon it evokes, for it comes from a recurrent dream. Snowden describes it as representing "experiences that happen without warning and shatter the equilibrium of the human psyche."
Like the nearby self portrait by Whistler, Snowden's work is autobiographical. Within the chaos of the tornado there is a faint suggestion of a figure, but the strength of her convictions, both artistic and personal, keeps her standing despite the power of the storm.
Gilda Snowden
Collection of William G. Boswell and Katherine S. Boswell
"Tornado; Red Wind"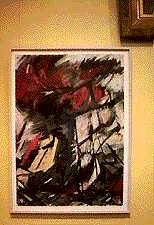 Back to the Interventions Page...