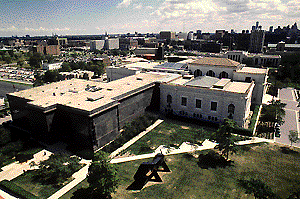 The Detroit Institute of Arts
"Interventions" was made possible with the help of:
The Department of Twentieth-century Art;
Jan van der Marck, Curator
Maryann Wilkinson, Associate Curator
Bonita LaMarche, Associate Curator
Special thanks to:
Nancy Jones, DIA Writer
Jennifer L.S. Moldwin, DIA Library Science
Sidney Harris, Information Systems
And...

The friends of Modern Art
Note: This website is is a historical site, being the first ever fully reported art exhibition at the DIA, and possibly the first ever in the world. It was placed on the web a day prior to the show's opening in the spring of 1995
This Web Site was created by goodfelloweb.com
Back to the Interventions Page...