The Detroit Institute of Arts Presents:
Interventions/Valerie Parks
VALERIE PARKS, born 1947
Dumb as a Post: #3 (in the rough), 1993; Happy Girls, Happy Widows, Unhappy Wives, 1993; Dancing as Fast as I Can, 1993; When Pigs Fly: #3, 1993
oil on linen
This series of four painting by Valerie Parks is exhibited in the context of Christian imagery to reflect her contemporary reworking of the themes of martyrdom and transformation.
Parks' images explore issues of female identity. Through them she questions "traditional social/cultural structures that continue to place women in a secondary position to men." When viewed sequentially as a narrative the works recall series of Christian images of the events leading to the crucifixion. The first three paintings by Parks suggest situations that are part of the process through which women are socialized.
The fourth painting, When Pigs Fly, reinforces the analogy to Christian imagery by referring to a "miraculous" occurrence. The sexless figures suggest a transformed society in which a person's value is not determined by gender.
According to Parks, her series functions as an artistic and personal statement of a "secular faith that the ideals of gender equality can be realized."
Collection of the artist
"When Pigs Fly"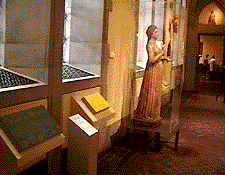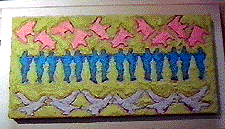 Back to the Interventions Page...