Hotel Hotel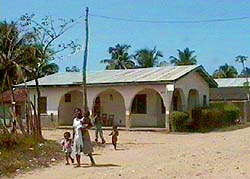 Hotel "Hotel"
There were three locals sitting up against the wall of a building which had "Hotel" written on it. I asked them what the name of the hotel was. One of the locals looked up at the word "Hotel" and squinted up at me.
He wet his lips and said,
"Hotel" .
Welcome to de Hotel "Hotel". Sorry, I didn't go inside.