The following is a snapshot of our visits to Honduras in 1997
- This is a static site and does not reflect the present -
Map of Limon; click on points of interest


Limon, Colon, Honduras is a rustic Garifuna town consisting of a few thousand souls, many of whom make a living fishing. Limon is accessed by a single gravel road and although in fairly good repair, expect to spend an hour and a half gulping dust before you get there.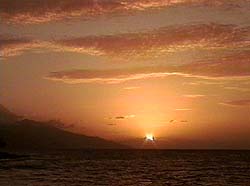 The Garifuna town of Limon; lovely sunset seen from beach.
Unlike Trujillo, the coast is not unprotected by a bay and the waves roll in; it's quite spectacular. The beach is wonderful, and unlike Trujillo, some measuress are taken to keep the whole beach clean.
The people are very friendly; it's hard to pass a person without a greeting. If you don't mind roughing it a little, Limon is the kind of place you can spend a lot of time. We met a Canadian called Derek Parent, guide and photographer who lived behind the Hotel Martinez. If you see him, buy him a drink; he's a great storyteller.