Beach Restaurants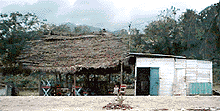 Typical beach hole in the wall
Down the hill from the town lies the sandy Trujillo Beach. Just in from the beach is a strip of restaurants that go on for perhaps one quarter of a mile. Some of these establishments have significant menus and serve a wide variety of drinks. Most are a spot in the sand with an ice cooler and a place to sit in the shade. Although these places do not have the draw of more extensive establishments such as the Rincon, they are for the most part quiet and cool and their cold bottled drinks are just as tasty as at the 'better' establishments.
As far as food goes, the smaller places are pretty hit & miss; if they have food at all it will for the most part be fried meat, chicken or fish with fried platanos. Mostly edible, but somewhat dull fare. At night some of these smaller places can come to life, as they are the watering holes for various friends and cronies.
If you are going to spend some time on the beach and all you need is a refresca, I urge you to spend your money at these joints. The owners are usually not well off and could use your patronage to a much greater degree than the more elaborate places.