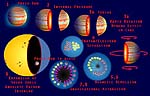 Comments and news update by email request form
If you have a hankering to know what transpires in the world of plasma research or solar neutrino information in relation to this paper, or you have some information you'd like to impart, please share it.
---
---

Copyright © 1997 Stephen Goodfellow. All rights reserved.
Revised: February 06, 2000.