12/13/1997 - Oakland Press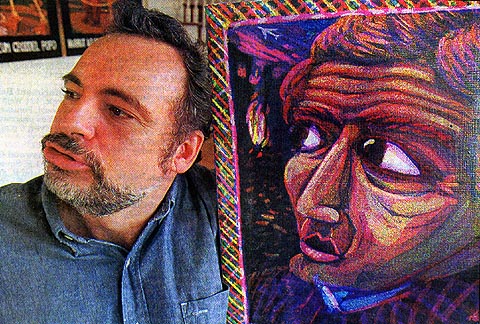 In this case, life imitates art as Stephen Goodfellow poses with one of his paintings at his Highland Park home
Stephen Goodfellow
Artist helps Netizens peruse DIA collection
By ALICE RHEIN
Special To The Oakland Press
"I tried to make the experience very similar to what it's like walking through a gallery," says Stephen Goodfellow as he assumes the role of cyber-docent for a guided tour of the Detroit Institute of Arts Visual Resources gallery - the online museum he helped create. "If I had my druthers, I would have the floors creak as you moved across the screen."
Last summer, the 44-year-old native of Britain and computer artist helped launch the DIA's site, making it one of the first art museums anywhere to have a searchable database. While most gallery sites are linear and follow one path. the DIA's has sophisticated graphics and hyperlinks that allow the viewer to choose what to see and what to build.
Click "by category" and you're asked what medium and geographic location you wish to enter. Scroll horizontally and view images of photographs, sculptures, paintings and decorative arts; click any one of them for a larger picture and written details of the work. Type Chagall or any other artist's name and a few thousand bytes later, a microgallery of their works emerge.
More than 2000 images are currently in the virtual gallery, including works by local artists who have little chance of ever finding them on the walls. After all, more than half of the DIA's 60,000-plus collection is housed in storage.
"My friends, who are artists, have works, like mine, that are hidden in the vaults in the DIA where no one gets to see. All of the sudden this is available. not only to the public in Detroit, but all over the world. It's a mindblower," says Goodfellow; clicking on his own micropointillistic painting "Parallel Universe."
"After having created it. I come back to it all the time," he says, perched at a Macintosh with dual monitors. his hyper dog Ricky at his side. "It is so delightful to look at these and let my eyes rest for awhile.'
Indeed. the inspiration for Goodfellow's latest artwork from his virtual studio is a take-off on Bruegel's "The Wedding Dance," which can be found in the DIA's collection. "I'm putting the final touches on a contemporary version of it," he says with a little chuckle that reveals his fiendish sense of humor.
"It's of people dancing, and you know those wonderful codpieces they have? Well, men now have these money pouches they wear. so I have them bouncing up and down. Of course, everyone is standing in the same location, but I do it in my own style."
Goodfellow's style began 20 years ago when he was a graduate student in Fine arts at Wayne State University. "I was experimenting with cross-pollinating some of the more delicious attributes of intaglio with lithography (both print-making techniques)," he writes in the 'short history' section of his multifaceted Web site.
What he developed was a technique his fellow artist Lowell Boileau coined "micropointillism," essentially a way of joining yellow, red and blue to create a final image.
Later, with the increased sophistication of paint program software, Goodfellow began creating his images on computer.
"It is hard to revert to conventional painting when one can enjoy the unparalleled brilliance of radiative color," writes Goodfellow, explaining his latest technique "radiative primarism."
His animation "Nude on the Rocks" is an example of this oscillating medium in which the three primary colors are formed in sequence to create the entire spectrum of secondary colors.
And today, the radiating medium is his only palette.
Goodfellow also teaches two Web design courses at the Center for Creative Studies in Detroit. And few artists in the metro area - perhaps the country - are as adept at creating imaginative Web sites.
His own Web site is a delightfully witty collection of his artwork along with a how-to guide to radiative primarism and micropointillism for aspiring computer artists. It also includes his Honduran Notebook with photos from a recent trip, the Intrepid Traveler's Guide to Detroit, and a missive on his alternate theory of gravity titled "Can Gravity be Induced?"
Goodfellow also got a leg up on the mass media this summer when a tornado partially tore the roof off of his Highland Park home. "If you go to http://goodfelloweb.com/storm you'll see the storm that hit us. Our electricity went out, but I had my little digital camera and went out and took pictures.
"I got home and by some miracle, the phone lines still worked, so I got my laptop, hooked up the modem, and put pictures up. I had people looking at the damage even before the news had access," he says.
Last month was the first time his site got so many viewers that he was charged an additional access fee, but he doesn't seem to mind. "I make money off the Web. I build Web sites for people, and it's worked out very well for me," he says.
But like any artist, it's his own work that drives him. "I am an artist who no longer paints paintings," says Goodfellow. "If I want, I can transfer it to canvas. It's a very seamless transaction and you would have to get very close to tell. Not every artist is as lucky as that."
The DIA Visual Resources gallery URL is at http://www.diamondial.org
Stephen Goodfellow's Web site is http://goodfelloweb.com
(Alice Rhein is an Oakland County-based free-lance writer She profiles area artists once a month.)
---