Article Status:
Illustration(s) Status:
Joe Louis: The Great Black Hope: Race and Sports
by Peter Werbe
Detroit's Brown Bomber, Joe Louis, dominated the sport of boxing during the 1930s and 40s. He held the world heavyweight title for twelve years until retiring undefeated in 1949, longer than any fighter. His record of 25 successful title defenses still stands.
However, as the decades pass, many Motor City residents have forgotten the man and his legend. Instead, when they hear his name, what comes to mind is "The Joe," the downtown sports arena bearing his name, or, worse, scupltor Robert Graham's controversial "Monument to Joe Louis"-the two-ton, 24-foot-long, disembodied arm and fist-sitting at the foot of Woodward Ave. menacingly poised as if it was about to give Windsor, across the river, a sock in the snoot.
Fortunately, a recently published book should restore Detroit's great champion to flesh and blood status. Richard Bak's "Joe Louis: The Great Black Hope" (Taylor Publishing) is not only a compelling sports saga, but this city's history during an era of segregation and racism.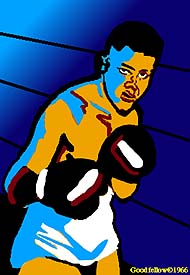 Image: JPEG/144 Pix High Resolution (71K)
For print quality illustration, click on image. When the larger image appears in your browser, click and hold down your mouse on the image. A dialogue box will appear. Use the "Save to" and download the image to your computer.
Bak, a native Detroiter, has written widely about sports, history and travel. He is also author of "Lou Gerhig, An American Classic," and "Ty Cobb: His Tumultuous Life and Times." Bak was an extra in the Warren Bro. movie, "Cobb," starring Tommy Lee Jones.
Peter Werbe: Both Ty Cobb and Joe Louis were southern boys who came north and made it big as authentic Detroit sports heroes. What's your interest in them?
Richard Bak: I had a goal to hit a triple play; a biography of the greatest athelete in three sports, each of who came out of Detroit. The greatest baseball player, Ty Cobb; the greatest boxer, Joe Louis; and the greatest hockey player, Gordie Howe. That's a pretty clean sweep of the major sports. So, two out of three ain't bad.
PW: Place Joe Louis the man and the fighter in history .
RB: Joe Louis is well known on several levels. He's arguably the greatest fighter in history. On another level, locally, outside of Henry Ford, Louis is the most famous person to come out of Detroit in its 300 year history. On the most important level, he is the greatest symbol or metaphor this city has ever produced and in his day he was the most famous black man in history.
PW: Joe is always considered pure Detroit even though he lived his boyhood in the South.
RB: He came up from Alabama with his family. He first got into boxing at the Brewster gym, now the Brewster-Wheeler Center, and it was in Detroit where he picked up his boxing skills and met his manager, John Roxborough, who was one of the biggest numbers runners in Black Bottom. And, Joe's family still lives here today.
PW: You mention the Black Bottom and Paradise Valley areas of the city which are probably not well known to many Detroiters today since they no longer physically exist.
RB: Black Bottom was essentially the 60-square block black ghetto until the 1950s when it was splintered by the freeway system, primarily the Chrysler which went right throught it.The City called urban renewal, but the blacks who were forced out of the area called it urban removal. Hastings Street and St. Antoine were the main drags of Paradise Valley which was the entertainment and night club district of Black Bottom. It's center was where the I-375 service ramp is now.
PW: Joe Louis in the 1920s and 30s lived in a highly segregated Detroit where the black population was a distinct minority relegated to this one small district. What was it like?
RB: Detroit grew from a black population of 5,000 at the turn of the century to about 90,000 during the 1920s. Every black who came up from the South to work in the auto plants, which were booming during World War I, was shoe-horned into Black Bottom. When the city tried to move blacks into public housing, which had become the vogue in the 1940s, in white districts, there were riots. American society was terribly segregated and it was rare to see a black person presented positively in any field of endeavor.
The North was liberal compared to the South, but everything was still segregated including the schools. At most companies you couldn't rise above a certain position if you were black. Most blacks worked at Ford or Briggs which were the two biggest employers of black factory workers. But they always had the worst jobs in the foundry or the paint shop-the most dangerous and low paying positions.
PW: What did Joe Louis represent in a society so segregated and racially conscious?
RB: White society was literally taking it on the chin every time Joe Louis knocked out a white opponent. You can understand the symbolism in that.
PW: When Joe Louis was coming up during the 20s and 30s, major sports were totally segregated as well. There were no blacks on any of the professional teams, yet you had integrated prize fighting and that had been the case for quite a while. What was the deal?
RB: Blacks were allowed into the boxing ranks, but in prize fighting the only lucrative division is the heavyweights. That's where the heavy punchers are, the Jack Dempseys, the Jack Johnsons. It was rare for a black man to get a shot not only at a title, but even to be a ranked contender. There was only one black champion before Louis, Jack Johnson, and his high living life style offended whites at the time and set back things 25 years for black atheletes.
Other sports, like baseball, were controlled by white owners who had centralized control of the sports through league commisioners so they could exclude blacks pretty easily. Boxing, on the other hand, has always been a pretty nefarious sport and it was a little easier to crack. As Joe fought his way up through the ranks, if he had shown himself at any time to be unpalatable to whites, white promoters and white fans, he never would have even been given a chance at the title.
PW: You talk about Louis coming up through the ranks which were heavily populated with immigrants, with Joe's family being part of an internal migration. The fists of Jewish fighters, Italian fighters, and black fighters was the way in which the first arrivals could gain some prominence and wealth.
RB: You go back to the late 19th century and the first modern heavyweight champions are the John L. Sullivans, the Irish. The people at the lowest rung of the economic ladder had to figuratively and literally fight their way up.
PW: What were the important events in Joe Louis' career?
RB: Joe was the Golden Gloves light-heavyweight champion of Detroit in 1933 and 1934. He won the Amateur Atheletic Union championship in 1934 and convinced his manager he should turn pro as a heavyweight even though he only weighed about 175.
Joe worked through the ranks of ham-and-eggers, progressively tougher fighters, and by the time he was twenty had a record of 12-0 and was starting to get noticed. In June 1935, when he was only 21, Joe got a crack at Primo Carnerra, a former heavyweight champ, in Madison Square Garden and that's where he really made his bones.
What really made the fight was that Carnerra was Italian and countries could claim vicarious victories through their athletes. Mussolini's troops at that time were preparing to invade Ethiopia, a small black African country. So, you had all of this political hoopla that Joe represented the underdog, barefooted, black Ethiopians who were fighting Italian troops with spears.
Joe pummeled Cannera and black America went wild. Louis wasn't well known before the fight, but overnight he became famous. Starting with this fight, in Harlem, South Side Chicago, Black Bottom in Detroit and all across the country there were tremendous street celebrations in the ghetto.
PW: After that?
RB: While waiting to fight Jack Braddock, the reigning heavyweight champion, Joe fought and beat a number of ex-world champs. Then he met Germany's Max Schmelling, also an ex-champ, who was a 10-1 underdog, and Joe had a 26-0 record, 23 by knock-outs. Joe wasn't taking his training serious and Schmelling administered a terrible beating to him giving Louis his first defeat.
Still, Joe went on to fight Braddock in 1937, partly so as to not give Schmelling a chance to take the title back to Nazi Germany. Louis beat Braddock. Exactly one year later, admist much political ballyhoo, world events turned the Louis-Schmelling rematch into a symbolic prelude of World War II. Joe, even though he held the title, always said he wouldn't consider himself champion until he beat Schmelling.
On June 22, 1938, at Yankee Stadium, in the most publicized fight of the 20th century, almost every radio in the country was tuned to the broadcast of it, Louis demolished Schmelling in 2:08 minutes of the first round throwing 55 punches. Joe Louis became the most famous black person in America and there was incredible jublilation throughout every black community in the country. He was doing what every black man who was being discriminated against wanted to do to his boss or landlord; you can't escape the symbolism.
Louis becme the greatest blues hero since John Henry. All of the top blues artists of the day wrote and cut records about Joe, but also including jazz artists like Duke Ellington. Joe was the man for black America.
PW: How did whites react to Joe Louis?
RB: Times were changing slightly in the 30s. If Joe had come along in the 20s he might not have been accepted. What made Joe palatable to the white community was that he was a genuinely decent person, quiet and good-natured in distinction to Jack Johnson, the last black champ.
He really made his reputation during World War II. He legitimately could have stayed out of the service and lost a lot of money by not fighting during the war years. He enlisted in the army as a private and came out as a sergeant after serving four years. He put his title on the line for charity twice during that time and gave all the proceeds to army and navy relief funds. He starred in two propaganda films for the war and the government really played up his 1938 smashing of Schmelling.
Joe really had a positive effect on race relations. Because sports were so much in the public eye, they were a social laboratory in a sense. If blacks with good sound character like Joe could excel in prize fighting, the arguement ran, it followed they could make their mark in the workplace, the classroom or the voting booth. Fifty years ago when Branch Rickey of the Brooklyn Dodgers wanted to break baseball's color barrier, he told his chief scout, "Find me someone just like Joe Louis."
PW: Joe's last years weren't happy ones, were they?
RB: Joe retired in 1949 undefeated as the champion, but because of tax problems he came out of retirement in 1950, fought a number of stiffs and finally met Rocky Marciano who knocked Joe through the ropes. And that was it for Joe; he hung up his gloves at that point. Unfortunately, in the late `fifties he got introduced to cocaine, using it as a sexual crutch. Joe's favorite activities in retirement were golf, TV and sex and he drifted into drug abuse. Joe was battling his own demons during the 1960s, so the civil rights movement passed him by. He finally descended into mental illness and died in 1981.
PW: What happened to all his money?
RB: Joe won $4 million and he spent $4 million, a lot of money in those days; he blew it all. He said he spent his money on women, drugs, booze, friends, bad business investments, and wasted the rest.
To download this article for publication. go to "file" on your browser and save the desired article as text.
Send mail to webmaster@goodfelloweb.com with questions or comments about this web site.
Copyright © 1997 Peter Werbe Article Database
Last modified: November 06, 1997