San Pedro Sula...
Only two whole days left. Mixed feelings; the time has gone so fast, yet due to the enormous amount of continual data input vying for frontal lobe attention, it feels as if our journey has lasted an eternity.
Our last night in Copan Laurenn and I nurture a pleasant alcohol buzz at the Tunkul Bar.
To be sure it's a gringo hang-out, but there is enough mixture of people from different age groups and nations to stop it from becoming cliché. We meet the American woman who had her hat stolen on the bus; her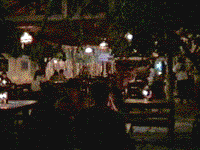 Tunkul Bar & Restaurant
and her friend are heading on into their six month journey through South America. She's got another hat; this one is of Guatemalan manufacture as are most tourist souvenirs of quality that are to be purchased in Honduras. I don't know why this is.
We are on the bus at 4:20am. It's the early bus that takes people to the San Pedro Sula Market. We're on it because time is running out and we want at least one full day in San Pedro Sula.
Upon arrival in said city, we grab a taxi for the Hotel San Pedro. In all our travels in Honduras we have never had to wait for a taxi; they are there in abundance. All the taxies are of Japanese make; the Detroit Auto Industry sure lost out in this region. A taxi driver informs us that there used to be a lot fewer taxies up until only a few years ago, at which time the import of second hand compact cars from Japan arrived on the market. They were inexpensive and reliable.
I have touched on San Pedro Sula earlier. It is an unremarkable city at first sight, but then again my own place of dwelling - Detroit - seems unremarkable to the untrained eye. Perhaps because of this I feel a faint kinship with San Pedro Sula.

Beautiful flowers - made of paper and plastic.
Shooting from the hip, I'd say that it's a place one could exist in without reverting to thoughts of suicide.
One more trip to the Skandia for lunch in the exclusive Sula Hotel for a gringo meal. It's a shame, but in the short time we stayed in San Pedro Sula (or anywhere else in Honduras for that matter,) I never saw better food than at the Skandia.* A division of culinary students would do for Honduran Tourism what the pineapple did for the Dole Company. It's not that there is no raw material to work with; Honduras is a paradise of fish, fruit veggies, meat and foul. The population deep fries everything. As a nation - Honduras is a culinary frontier waiting to happen.
Poverty is everywhere, but since pretty much everybody is poor it does not stand out in stark contrast as say, New York. If you are a tourist in Honduras, you are a rich person.
Be generous.
I found myself falling into the trap of thinking in terms of Honduran standards; balking at paying more for products or services than was necessary, even though the difference to me was infinitesimal. Honduras has the second lowest income per capita in the Western Hemisphere, only higher than Haiti. Whatever your job is in the Western World, I can almost guarantee that what you make in one hour is more than what a Honduran laborer makes in a week.
I found that quietly giving some money - usually unsolicited - to some of the impoverished souls I saw in the streets of San Pedro Sula made everyone who was part of the bargain feel good.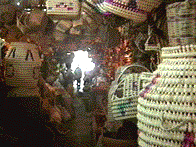 San Pedro Sula market.
The last day. A trip to the market where I convince Laurenn to hold off buying vanilla extract and coffee until we are at the airport. "It stands to reason," I argued, "...that there will be plenty of vendors plying their wares to get the last of the currency off the tourists before they leave." I was right and wrong.
We take a taxi to the San Pedro Sula airport, check in our bags and have a few minutes to unload the remains of our Honduran money. Where are the vendors? There are none; only one shop. The prices are rip-off even by Western standards. I'm embarrassed; my advice is to get your booty before you reach the airport.
Minutes later we are in the plane; a womb of Western Civilization and the promise of untold luxuries. The plane screams down the short runway and the primordial lushness drops away until it only seems a distant, pleasant dream. We gird ourselves at the prospect of Detroit in late February.
Our overall impression of Honduras? We'd go back any day.
---
NOTES & Contributions
---