La Ceiba...
If you have flown to the Honduran Bay Islands and have not experienced the mainland then an arrival at La Ceiba harbor is an eye opener. On the islands, cars are a relative scarcity. One quite forgets that this is not the norm and it is therefore all the more surprising to behold a hungry pack of dilapidated taxies awaiting their prey at the dock.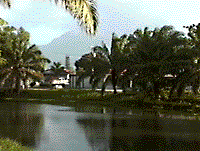 La Ceiba; estuary runs through town.
You WILL take a taxi; they are cheap and it is a long dusty walk into town. We stayed at the Granada Hotel. It is inexpensive. T.V. in the foyer, private bathrooms complete with toilet paper, towels and cockroaches.
At four in the morning we were awoken by the sound of drunks returning from a night of debauchery. Their arrival in the enclosed hall of the hotel was immediately apparent They put on a fascinating audio show for the guests which made the mind boggle. One deep loud voice shouting the same epithet over and over with subtle variations, after each outburst came a spattering of higher pitched voices humoring, placating. I had visions of a drunk, burly one legged pirate captain, being led along by his smaller shipmates.
La Ceiba has a sea resort flavor to it. Like most of the Honduran coastal cities, it has as not yet managed to significantly pollute its surroundings; the mountainous jungles that loom up behind the city seem to absorb the worst of the impact and torrents of fresh water flush the town clean without noticeable effect on the surrounding ocean. In evidence of this, herons still seek abundant fish in the estuary that runs through town.
We stayed one day in Ceiba. Next morning we took a taxi some sixteen kilometers east to Sambo Creek.
---