Diamond Cay...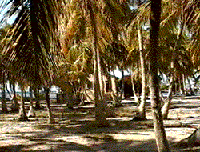 Cabin on Diamond Cay
Diamond Cay is delightful. If all you want to do is snorkel breath taking coral, slump into hammocks for hours on end and have someone cook three meals a day for you, then check this out. For twenty dollars a day this kind of Gilligan Island style solitude is available.
Not far from the shore, just off of Diamond Cay is an old cannon that is in about two meters of water. Captain Jim shrugged it off as if it was nothing special. "Oh that," He said distractedly as if it barely merited conversation, "It was brought from a sunken wreck and deposited here during an expedition that took place in the 60's. They used diamond Cay for a base. The cannon was just left behind."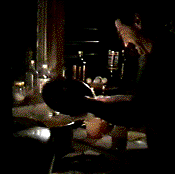 Michel prepares food by flashlight
We were treated to some spectacular sunsets. I got an awful lot of reading done, and there is something very enjoyable in traipsing off to the main house at dusk for dinner at the center of the cay, some 60 yards from our cabin.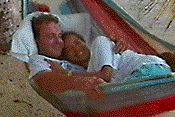 Capt. Jim and his young wife Ina
Some of the best food on our journey was to be had on this cay. Michelle was an excellent cook and knew how to set a mood; candlelight supper, music and good conversation.
This kind of setup at these kind of prices just can't last. If you want this kind of holiday, contact their outfit: Paradise Divers, Diamond Cay, 011 504 45 3227/Fax: 011 504 45 3106 (Via Hondutel). Tell 'em where you got the info.
Oh, yes; the island is for sale as well, if you have a notion to buy it!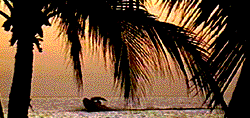 Sunset on Diamond Cay
Laurenn and I are restless souls, so three days of tranquil bliss is all that we can take at a time. We said our farewells to Michelle and Capt. Jim ferried us back to Utila. A day later we took a boat to the coastal town of Ceiba on the Honduran mainland.
---